AD ROCKING OUR HOODIE ON HIS FREESTYLE WITH REAL 92.3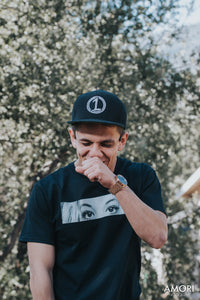 THE KORPSx Collection Mission
"We should love the things that make us different, honor our individuality, and cherish the people we hold dear. Uplift and outstretch a hand to those in need. It is our duty to leave a world for generations to inherit."
Based out of Oxnard, California, KORPSxCollection is a family owned and operated business that continues to strive to better our communities through dance, art and fashion. Always pushing a sense of community among the masses of people in our neighborhoods. KORPSxCollection works with our local groups such as dance teams, artists, and other small businesses looking for support. All in an effort to pay it forward, for all the love we have experienced on this ride. Nothing makes us happier than to share the artistic expressions, and other stories, from everyone who joined the KX Army.
We welcome you to the KORPSxCollection where we provide the latest accessories and clothing for any of your fashion needs. Our half Hip Hop and Gothic infused styles bring an edge and uniqueness that you can not find anywhere else. We thank you for all of the love and support. As we strive to bring you not only the best products, but also the best experience while shopping with us. 
-KORPSx
Read More